Posts for: February, 2019
By Susan J Noble DDS PC
February 17, 2019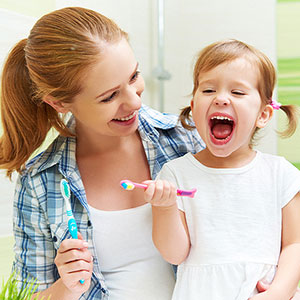 Like any parent you want your child to grow up healthy and strong. So be sure you don't neglect their dental care, a crucial part of overall health and well-being.
The most important part of this care is prevention — stopping dental disease and other problems before they do harm. Proactive prevention is the best way to keep their teeth and gum growth on the right track.
Prevention starts at home with a daily habit of brushing and later flossing. In the beginning, you'll have to brush for them, with just a smear of toothpaste on the toothbrush. As they get older, you can teach them to brush for themselves, graduating to a pea-sized dose of toothpaste.
It's also important to begin regular dental visits around their first birthday. Many of their primary (baby) teeth are coming in, so regular cleanings and checkups will help keep tooth decay in check. Early visits will also get them used to seeing the dentist and hopefully help stimulate a lifelong habit.
These visits have a number of purposes. First and foremost is to monitor dental development and early detection of any emerging problems, like a poor bite. Catching problems early could help reduce or even eliminate future treatment.
Some children are also at greater risk for tooth decay and could benefit from applications of topical fluoride, a mineral that strengthens tooth enamel, or a sealant to help protect the teeth. This is especially helpful in preserving primary (baby) teeth: early loss of a primary tooth could disrupt the permanent tooth's eruption and cause a poor bite.
Your child's dental visits could also benefit you as their caregiver. You receive regular feedback on how well your child's teeth and gums are developing, and the effectiveness of their oral hygiene. You also get answers to your questions about their oral health: the dentist's office is your best source for advice on teething, diet and other issues.
Together, you and your dentist can provide and maintain the best conditions for your child's dental development. The result will be the healthiest mouth they can have as they enter their adult years.
If you would like more information on preventive dentistry for your child, please contact us or schedule an appointment for a consultation.
By Susan J Noble DDS PC
February 07, 2019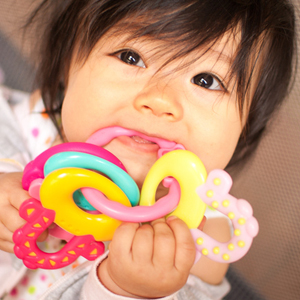 Although it's a natural part of dental development, teething is no picnic for your baby. This process in which each of their twenty primary teeth gradually erupt through the gums usually begins around their sixth to ninth month and may not end until around age three.
These periodic tooth eruptions can cause your baby to bite, gnaw, drool or rub their ears. Teething can also disrupt sleeping patterns, decrease appetite and cause gum swelling and pain that can turn your otherwise happy baby into an unhappy one.
Managing these teething episodes is one of the most common topics parents bring up with their dentists. Since teething is supposed to happen, there's no need for medical intervention unless the child is also experiencing diarrhea, rashes, fever or prolonged irritability associated with teething episodes. In most cases, the best you can do is to make your child more comfortable. Here are a few things to help you do just that.
Provide cold items for gnawing. Rubber teething rings, wet wash cloths or pacifiers that have been chilled can give your child something to gnaw on and ease the pressure of sore gums while the chilled temperatures help numb pain. Be sure, though, that the items aren't frozen because extremely cold temperatures can burn the skin.
Gum massage. You can massage your child's gums with one of your fingers during a teething episode to counteract the throbbing pressure coming from the erupting tooth. Just be sure your finger is clean and don't use any numbing agents unless advised by your dentist or pediatrician.
OTC medication. You can ease mild to moderate teething pain with over-the-counter pain relievers like acetaminophen or ibuprofen in dosages appropriate for your child's age. But don't apply rubbing alcohol to the gums or massage in any pain reliever—both practices can burn the skin. And, as mentioned before, only apply numbing agents like Benzocaine with the advice and supervision of a healthcare professional.
Besides these practices, be sure to keep up regular dental checkups to monitor the teething process and ensure all is going normally. And remember: though it may seem harrowing at times, the teething process won't last forever.
If you would like more information on easing the effects of teething, please contact us or schedule an appointment for a consultation. You can also learn more about this topic by reading the Dear Doctor magazine article "Teething Troubles: How to Help Keep Your Baby Comfortable."